Spot UV Coating, also known as spot varnish, is UV Coating applied to chosen areas of a printed piece. This is a great idea to add texture and shine to parts of your business cards like your company logo. This leaves the other parts of the business card with a matte dull finish so you are able to write on it.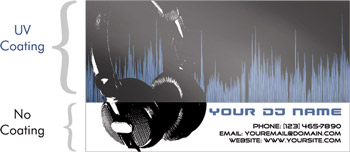 You can choose to have UV/High Gloss coating on any part of the card.
Actual Samples
FILE PREPARATION
When ordering Spot UV jobs, you must include a Spot UV template file along with the regular full color file. The Spot UV template file is used to show where the UV will go. This means two files are needed for each side containing spot uv. If the spov uv will be on the front, send the file that needs to be printed and a second file using black and white areas indicating where the uv coating will be applied.
Use C=0, M=0, Y=0, K=100 to indicate where you would like the UV, and white will indicate NO UV.
Let's use the example below to further illustrate. Let's say you have the file on the left to print and want uv coating on the left circle section and the text "Balloon Company". The spot uv file that needs to be sent should have C=0, M=0, Y=0, K=100 for the left circle and text and the remaining areas should be white.