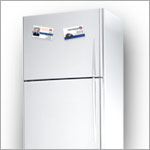 Your magnets will stay on your customers' refrigerator long after your competitor's business cards have been thrown away.
What better way for your business to be seen by your customers every day? Business Card magnets can be used as advertising to promote your business, or as gifts for customers that will keep you on their minds every day. Business Card Magnets have long been a powerful Marketing Tool because they are practical and cost-effective. At Mind2Print, we use only the highest quality materials. Our magnets are printed on very high quality and durable 17pt magnetic stock. The magnets are strong, yet easy to lift off and reposition.
Custom Printed Magnets are a great way to get your message into homes and businesses.
Turn any business card design into a magnetic business card.
Low Cost
Continuous Exposure
Highest Quality Around
UV Coating for Added Protection